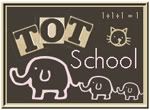 ~16 Months~
This week the Stink Bug turned 16 months old! Boy the time sure is flying by! I can't believe how fast babies grow up!
In tot school this week we worked with a very versatile (and free) activity. I saved the cups from laundry detergent containers, and painted the inside of each cup with some paint. One for each color of the rainbow. I have left out a few more that I made (purple, pink, white, etc.) for simplicity's sake this week. Really, you could use just about any small, clear container for this.
I have the cups turned upside down so that you can see the colors more easily as well as for the first activity we worked on.
The first activity that we worked on was talking about the different colors in each cup. Yes, this is MANY colors to introduce to your child all at once. By all means, I did not expect her to remember, or learn, her colors from this activity. This was more about exposure for us. I also took five craft pom-poms, one that corresponded to each of the cups, and showed her those as well. As I talked, I would places a pom-pom on (or in) each of the cups.
She had a blast putting the pom-poms in and out of the cups.
The Stink Bug also enjoyed stacking the cups. (Never putting down the pom-pom's!)
Another activity that we used the cups for was working on sorting two colors. When you work on this activity, be sure to use highly contrasting colors so that your little one can easily distinguish between them. Blue and purple can be very close in color and could make the activity too difficult. Shades of the same color are also difficult for tot's. I happened to pick red and yellow (blue and yellow would be the best now that I have thought about it) to work with. I gave her pom-pom's that matched and helped show her how to sort them.
The Stink Bugs grandma was over on this particular day. (Yes, that is grandma helping out in the background. Sorry, for the not flattering picture grandma!) I held one cup, and grandma held the other cup while the Stink Bug sorted the pom-pom's back and forth between us. This was VERY difficult for her but, with lots of cheering on, she thought it was a fun game to run between us! I will definitely repeat this activity again in a few months.
Have any ideas of how we could use these fun cups next week? I would love to hear what your creative mind can come up with!?