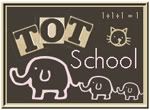 ~12.5 months~

This activity is one that the Stink Bug "designed" herself one afternoon. She had dug through her bag of lunch time essentials (bowls, cups, utensils and the like) and brought out a travel container of spoons. I opened it, at her loud request, and showed her how to take the spoons in and out of the container. A new activity was created! She has requested to do this multiple times so, I figured that I would add it to her tot trays! I really enjoy how this is helping her develop her fine motor skills and how long she will concentrate when doing this activity!




She decided that some leaves were better suited for this activity!

The second tot tray that I put out for the Stink Bug this week was a stacker toy. This skill is just emerging for her. Until this week she really had no interest in trying to put any toys on pegs. I was thrilled when she sat down to do this activity and stayed with it even though it was quite difficult for her! We can finally use the FOUR stackers that we have collected as various gifts for what they were intended for!




This girl has a thing for dried crispy leaves this week! She tried to stick them through the holes in the stacker "blocks" (or whatever you call them!).


The third activity that the Stink Bug worked on was by far the most difficult. She really stuck with it though! I had to step in here and there to help her push the pegs into one another and into the peg board. She was a little bit too gentle to push them in all of the way, and when she did push with force, she would knock over the pegs. We will definitely repeat this activity again. I may even have this be a "semi-permanent" tot tray and bring it out for her in addition to her three new trays each week. I am sure I will bring it out again when she is a little bit older to teach patterns, and counting skills too. (This is another one of those activities that you have to supervise closely. I could see the pegs being a choking hazard.)




I think we will stay inside for the rest of the week! It has been nearly 100 around here! Not too much fun unless your heading to the pool or splash ground!