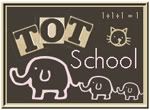 ~13 months~
The first tot tray activity that we worked on this week was a practical life activity. For a brief explanation of what "practical life" activities are (by infomontessori.com), click
here
!
This activity was very straight forward. I modeled how the Stink Bug should put her shoes on by sitting behind her and using her own hands to put her shoes on. Sort of like how you can imagine someone trying to teach you how to play pool. Once she got the hang of what I wanted her to do, she took off on her own.
I think the the key to having your toddler be successful at this activity is to choose shoes that are a couple of sizes too big and that slide easily. These shoes happen to be a infant sz 6 and she wears a 4 and a half or 5 right now.
Trying to figure out the best way to hold the shoe.
She had a lot of difficulty with this and needed quite a bit of help. I was happy that she did not get frustrated though so, I think that it was still within her "doable" range.
This activity was one of the Stink Bugs all time favorites! I filled a cleaned out, clear, soda bottle with a handful of pom poms and two pipe cleaners that I bent in a zig-zag and curled the pointed ends up into spirals. This activity was all about fine motor skills. Practice for putting small objects into containers, and long thin objects.
She also enjoyed setting the lid on top of the bottle, although she is not able to twist the lid yet - and I would not expect her to be able to do this for quite some time.
The last activity we worked on was stacking objects. In this case, some wooden blocks that were all the same size. The Stink Bug is great at knocking down stacks but, really not so good at stacking. I had to remind her a couple of times that she was supposed to stack them on top and not knock them over. I think I will just have to continue to reinforce this idea during our typical play time as well.
Of course some leaves were involved...
...and some keys...
Girls just want to have fun!
This picture was just too funny not to share! I made a zebra hat and mittens for the Stink Bug to wear this winter (and maybe for Halloween?) and wanted to make sure they fit so, I obviously tried them on her. Plus she had on zebra pajamas, so it was a no brainier! She proceeded to "pose" for me to take her picture! What a ham!