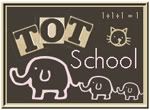 ~15 Months~
Our first activity this week was a tot tray activity. We worked on sponging up water. The Stink Bug has had a recent fascination with using paper towels to wipe EVERYTHING! She gets a kick out of wiping her baby doll's faces too so, I figured, why not give it a try! I modeled how to do it once, by sprinkling some water on the tray and then wiping it up with the sponge. She really took off after that!
She got so into the water sprinkling that she enthusiastically shook it ALL over the tray, as well as herself.
The wiping she was a bit more careful with but, really wasn't into getting every drop wiped up. She really wanted to get the wiping over with so she could get back to the sprinkling!
We also worked on putting small objects into an ice cube tray again this week. This time we used "puffed" treats.
You can see how that went over...
She was of course more interested in using leaves!
We also worked on this AWESOME latches board. At first, I wasn't sure that she would be able to master the latches without assistance but, she has been fascinated by it, and by the end of the week mastered opening each one.
There are a few that she has a difficult time closing but, I think that is mostly because once the latch is unlatched, and the little door or window is opened, the activity is "finished" to her. I don't think that she really sees the point in latching it back each time. I will definitely keep this activity out for awhile for her to explore, and will bring it out again when we talk about numbers and colors. (Each door has a different latch as well as a color, number, and corresponding number of animals inside.)
Last but not least, we have been working a lot on shape sorting/puzzle type toys this week. We have a few toys that she used to practice this but, this is the only picture that I took. (This particular toy has a triangle, circle, and square.) This week she was able to do circles, without any issues, as well as stars and some squares. I believe that these shapes seem to be a little bit easier for her right now because they don't require her to turn her wrist quite as far to figure out how the shape fits into the hole. Triangles are a bit much for her at the moment.