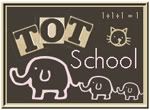 ~16.5 Months~
I love everything about the Holidays but, I am looking forward to getting back to our normal schedule! I am one of those people who likes a schedule, and when I don't have one I tend to get a little stir crazy and often end up getting less accomplished than I would like to. With that being said, back to our normal tot school schedule!
The Stink bug received some fun, educational things for Christmas that we have begun to work into our tot school routine. One gift that she received was this little beauty:
If you notice, there are three empty "holes" in it. That is because the pieces that belong there are fairly small and, unless I am watching the Stink Bug closely, I tend to put them away. This has been an activity that I have left out for her to work on all week so, the pieces have been put away.
The pieces graduate by diameter, as well as height, and each color set graduates in size. You can also take them and nest them, as well as turn them over and stack them. The options for learning are WONDERFUL. This really activity feels very "Montessori" to me. What do you think?
We also received an easel from grandma and grandpa, which we have already put to good use. I don't love how difficult it is to draw on a vertical surface at her age but, the Stink Bug enjoys it. I think I may pick up a lap tray/desk as her interest in scribbling increases.
I brought out the lacing blocks again this week. Its amazing to watch the Stink Bugs fine motor skills grow!
We worked with her object magnates this week in a new way. The Stink Bug has really had more and more of an interest in practicing new vocabulary so, that's what we did! She would pull out an object, and I would tell her what was. She would repeat the word, and put it on the board. We did this through all of the magnates that she was interested in, which was quite a few!
Keep posted for some indoor gross motor play ideas for winter weather!