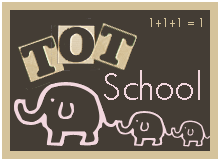 ~12 Months Old~
It is the time of year for school to start! I love hearing the excitement that many of my friends have as they get their children ready for the first day of school. Whether its their children's first day of kindergarten, or first day of jr high, the air of excitement is still the same! This fall, I get to share in a little bit of the excitement too. I will be starting Tot School with the Stink Bug!
Now obviously, her school schedule will not be ANYTHING like kindergarten, or preschool for that matter. I hope to have around 15-20 minutes of guided "school" time. It may not be all at once either. It may be 5 minutes here and there throughout the day. I plan on following her lead. The main objective is for me to have three new activities for her to participate in each week. If she is bored with them sooner, I will swap them out accordingly.
The learning technique that I will use will be based on the Montessori method. If you are not sure about what that is, check out my previous post on it
here
. Also, a mixture of the "tot trays" method found
here
. To begin with I plan on setting out three trays, each with their own activity, chosen to challenge the Stink Bug but not frustrate her.
Each week, I will do my best to take pictures and write a little bit about what we are working on. I will also be linking up weekly with
Tot School
from the blog
1+1+1=1
. You can check out what other moms are doing with their tots and some linky love!
Wish us luck!