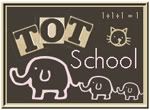 ~14 Months~
This week we worked on three activities, as usual! The first activity that we worked on was a fine motor activity. I pulled out the small colander for yet another go at it. This time we used pipe cleaners instead of toothpicks. I figured that they would be a bit gentler if she put them in her ears. Thankfully, she didn't make the connection this time!
This activity was a bit too easy but, she still really enjoyed it. She also enjoyed pulling the pipe cleaner back in forth in the holes while listening to the nice "scratching" sound that it made.
Look at that concentration! I love it!
The second activity we worked on was a pouring activity. I did not have high expectations but BINGO it was perfect! Just challenging enough for me to have to do plenty of modeling but, no so difficult that she couldn't do it by herself. Yay! I was glad to finally have great activity right at the cusp of her "sweet spot" for learning. You can expect to see a pouring activity each week now!
At first she wanted to play with the rainbow rice that I had in the glass measuring cups. (Check out my tutorial for rainbow rice
here
.)
But she got the hang of pouring it too! She even stuck her hand in the rice as she was pouring it! (Sooooo glad we did this one outside!)
The last activity that we worked on was sign language related. Not your typically tot tray type of activity but, something to take signing to a new level for us. The Stink Bug can sign 30+ words so, I needed to do something a little bit more challenging with her knowledge.
I pulled out a ring of cards that we use for identifying and laid it out for her on her tray. Normally I would hold up two cards and ask her to choose/point to one of them. For example, "Please point to the apple." This time I asked her, "What is that?" as she looked at the cards. I also asked her, "What is the sign for that?" She happily signed back what each card was. Sometimes I had to be more direct and ask her, "That is a puppy. How do you sign puppy?"
We both liked this activity and I may even stick these in my purse or her diaper bag for those times that we are out and need a quiet activity. You know, those times like standing in line at the grocery store....when all your toddler wants to do is grab at the bananas and fuss about having been in the cart too long? We all need activities for times like those! What types of activities do you do with your toddler during those times? I would love to have a few more tricks up my sleeve!
Oh, and before I forget! Don't forget to enter my giveaway to win an 8x10! You get get there by clicking
here
!