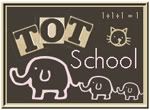 ~14 months~
Hello again! I have officially begun to enjoy fall for the year! Up until now it seemed that the weather was not sure which way it was going. Back to summer, or right into winter. This week the trees in our yard have begun to drop their leaves and have made for a beautiful fall backdrop. I love it! (I also can't wait for the mosquitos in our yard to be gone as well. The Stink Bug has a nice little bite on her cheek!)
Oh, and of course, the Stink Bug loves it too! If you have been following along with my Tot School posts that you know that she has an affinity for leaves, and twigs. She is positively beside herself when we go outside to play. Which, I might add, is twice a day now. Whenever we are in she hangs out by the door going outside and repeats "out-t" incessantly. She has even got to the point of bringing me shoes, or a jacket (or what she thinks is a jacket) and pointing to the door. So cute! Except when it is 6 am, and mommy is in her pajamas still. I am sure our neighbors would have a fright! ;-)
Ok, on to what we did for Tot School this week!
The first activity was more for "fun" and the fact that she has been carrying her pumpkin all around the yard. I used a pumpkin with an extra long stem, and let her stack rings of all sorts on it. Here, she is stacking some ring links.
The second activity that we worked on this week was a continuation of what we did last week with the q-tips. (You can check that out
here
.) I gave her a small colander, turned upside down, and a handful of toothpicks. I had planned this activity to be more difficult for her but, it also turned out to be too easy. I was sorely disappointed.
She really enjoyed it until.....well....if you remember last week she had q-tips. She remembered the q-tips, which she stuck in her ears. Yeah, you guessed it. She stuck the toothpick in her ear. I promptly grabbed the toothpick and moved on to the next activity. The last thing I wanted was for her to puncture her eardrum. Lol! What a silly kid!
The last activity that we worked on was another 1 to 1 activity. I gave her an ice cube tray with enough small ghost erasers (thank you Target dollar section) to have one for each space. I did not expect her to be able to put the ghosts one in each place but, I gave her the benefit of the doubt.
She really enjoyed playing with the little ghosts (carrying them around) and putting them in the ice cube tray, and back out again but, she was not interested in putting them in one by one. That was fine with me!
This picture is my favorite shot of her from the week. She is wearing a "Little Red Riding Hood" cape that I made her for Halloween and the winter months. Originally, I wanted to continue with her Zebra outfit (you can see it
here
) but, when I went back to get more of that fabric, I realized that my fabric store had closed! (Pout, pout, pout.) So, I figured that this is just as good and she enjoyed wearing it to boot! :-) What will your toddler be this year for Halloween? I would love to know!
Oh, and don't forget to enter my giveaway
here
! See you next week!