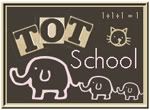 ~14.5 Months~
We had a little distraction while taking our tot school pictures this week. The Stink Bug has a fascination for lawn mowers, especially when they involve one of her favorite neighbors. You will see that she is staring into the distance in some of the pictures....well...this was why!
We did LOTS of puzzle work this week. I love this specific puzzle because all of the fish are the same shape so, no matter where she puts the piece it will fit, even if the color doesn't match.
I also enjoy this puzzle because it has tiny little "stems"/"knobs" or whatever you want to call them. Whatever they are, they are GREAT for fine motor practice.
The second activity that we worked on was a recycled container activity. I used a cleaned out oatmeal container, and cut small holes in it that fit her alphabet blocks. You can see another oatmeal container activity
here
.
I figured that putting holes in the lid, as well as the side, would challenge her to move her wrist in various ways.
She really enjoyed looking at each side of the blocks before putting it into the container. This was a little bit challenging for her, because I made the holes a tight fit. I imagine that you could do this activity with just about any block you have around!
The third activity that we worked on was a spooning/transferring activity. The Stink Big loved the spoon, love the oatmeal, loved the bowls but, loved them all separately.
She enjoyed "pretend spooning" and eating it. She enjoyed running the oatmeal through her fingers.
I think I will look into giving her some more familiar materials to work with for spooning and transferring. I think I may try to use the rainbow rice, since she is more familiar with it. You can check out my tutorial for rainbow rice
here
.
Pumpkin Time!
You know what time of year it is! Time for silly, tooth grinned, pumpkins! In the past, I have poured hours into intricate pumpkins with crazy patterns. This year is different. Without much time, and no desire for the stuffy pumpkins of my recent past, I decided to bring back a little of my childhood. I have such good memories of pumpkins carved on a whim, and good times with my family. I really wanted some of that fun again! Why does it need to be a planned out event? On a whim I say! A whim!
Here is daddy teaching the Stink Bug how to carve a pumpkin! She was more interested in trying to eat the pumpkin seeds, and opening and closing the pumpkin lids, than listening to daddy.